BERTHOLD TECHNOLOGIES radiometric instruments are perfectly suited for use in the offshore and onshore oil industry.
They are installed on Drilling Rigs, Production Platforms, FPSOs and Oil Terminals and provide highly accurate and repeatable read ings, – the base for a profitable and safe operation.
---
Density Measurement LB 444
The measuring system LB 444 is used for non‐contacting density and concentration measurements of liquids or bulk materials. It is easily installed on existing pipelines without process downtime. The radiometric densitometer is maintenance‐free and provides highest operational safety.
---
Level Measurement with SENSseries LB 480
The level detector SENSseries LB 480 is a compact field device combining cutting‐edge measurement technology with the highest level of manufacturing quality and innovative features – the best system for high demand applications:
high level and low level switch
continuous level measurements
interface layer measurements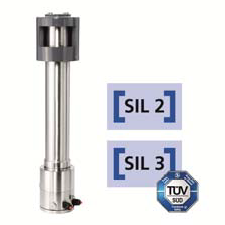 ---
---
---
Sarana Instrument contact person :
Fra Yudi Wirdana / [email protected]
Arifin / [email protected]