As one of the advanced companies continues to develop, PT Sarana Instrument is committed to implementing an Integrated Management System. Our Company realizes that implementing a management system in the current competitive era is not only fulfilling its obligations but has become a necessity in carrying out the Company's business activities to maintain sustainable business growth, increasing customer satisfaction, increasing company value and as an effort so that the company is able to survive in the competition.
One of the management systems implemented at PT Sarana Instrument is the Anti-Bribery Management System (SMAP) based on ISO 37001: 2016.
Policy
As the Company's commitment to the management system that has been implemented, the following is the SMAP Policy that has been created and approved by all levels of PT Sarana Instrument's Board of Directors :
Whistle Blowing System
PT Sarana Instrument provides a communication media for stakeholders to complain about acts of bribery or violations called the Whistle Blowing System for external and internal parties.
Categories of complaints that can be submitted via Whistle Blowing System (WBS) include but are not limited to :
Corruption
Misuses of of assets or authority, theft, embezzlement of cash or material supplies, assets, and others
Manipulation of Financial or Non-Financial Reporting
The violation actions that deviate from applicable laws and regulations, company regulations, company code of conduct and SOP.
Actions that bring harm to Company's honour.
Ethical Violations/Unethical Actions.
Drugs usage
Involved in prohibited community activities.
Whistleblowers can report the alleged bribery / violations they witnessed through :
By Email : [email protected]
Flow of Whistle Blowing System Handling :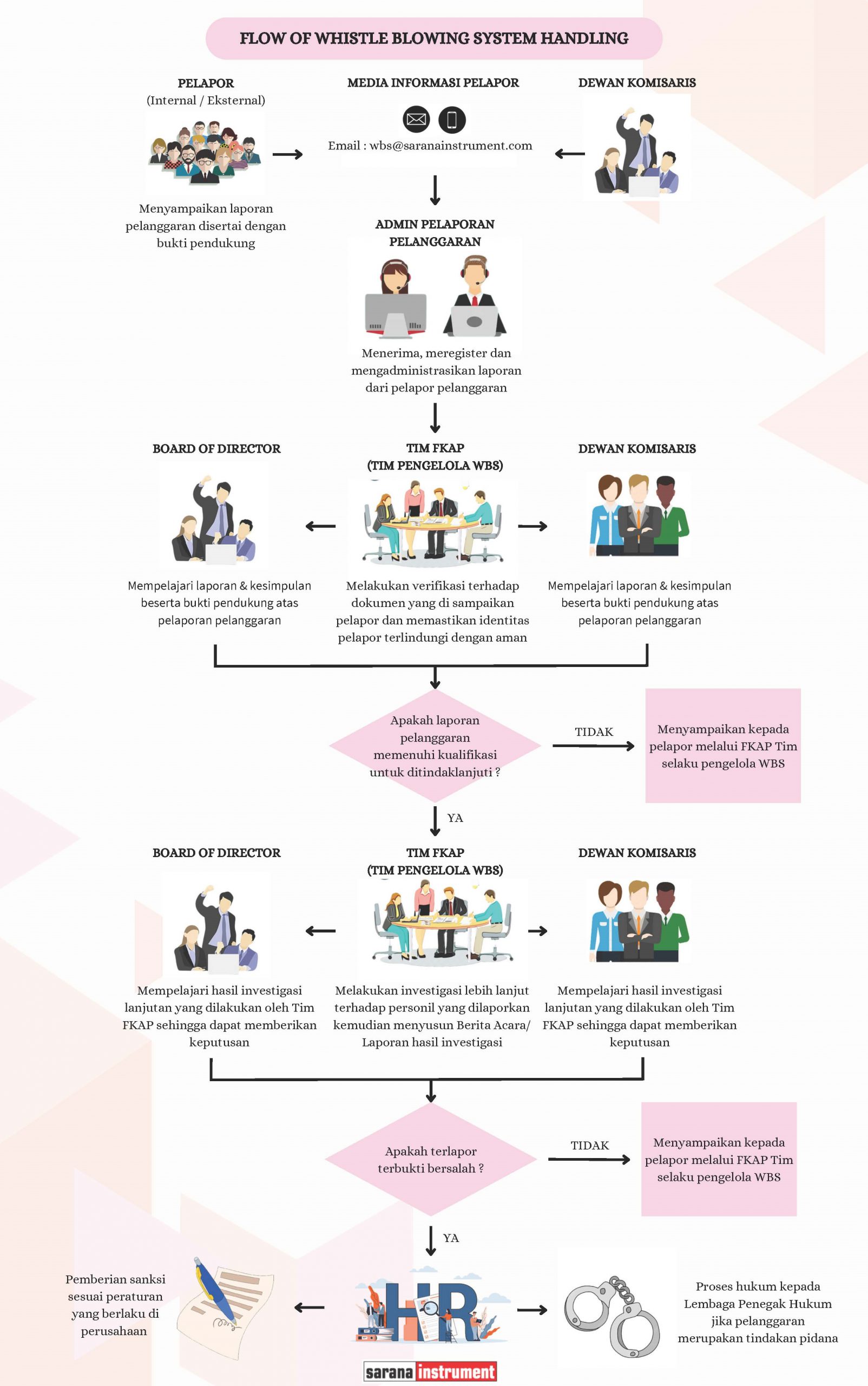 Protection to Whistleblowers :
PT Sarana Instrument guarantees and provides protection to whistleblowers in good faith, for internal employees and external parties who submit complaints of alleged bribery and/or violations in accordance with applicable regulations.